With the goal of bringing a cultural perspective to language localization, every year Imminent produces a Research Report, gathering information from experts in different fields and focusing on the year's main topic. The report features interviews with scientific committee members, research papers, and the most interesting data on rapidly developing and expanding countries.
If you are a localization buyer
request your free Imminent Annual Report 2022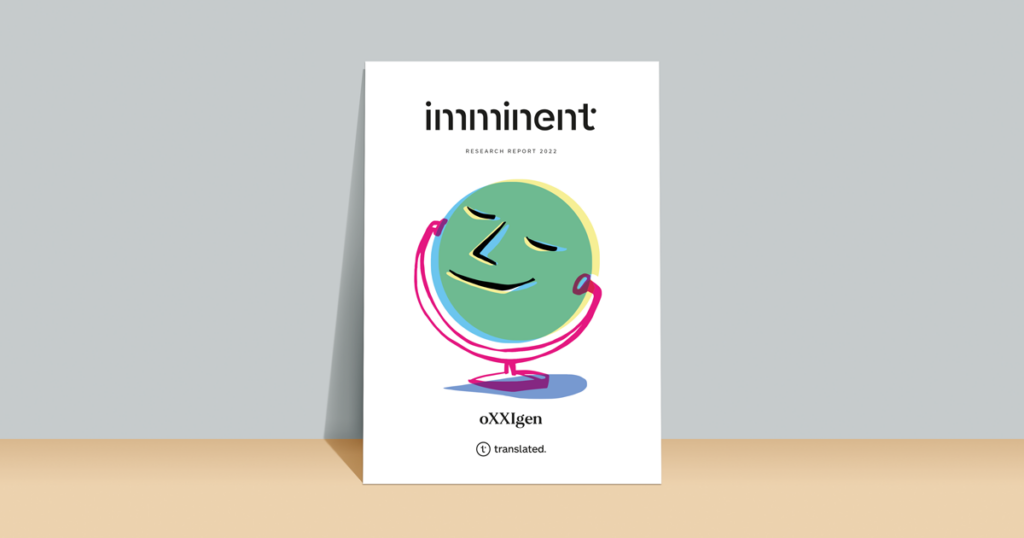 Why oXXIgen?
Language is not a tool that mechanically connects signs and meanings. It is a complex system that constantly evolves. The underlying hypothesis of Imminent's 2022 Research Report is that we will witness a great evolutionary leap forward in the 21st century. If this hypothesis is realistic, today's young people will be the leading figures of an accelerated transformation. Those who are young today are destined to experience the new atmosphere – both environmental and cultural – of our planet. They are the generation of the XXI century: oXXIgen.
---
---
What is Imminent?
Imminent is Translated's Research Center, which helps those who do business internationally to do so with an awareness of the multilingual context in which they operate. International businesses need to improve the way they assess and understand the value of a multilingual approach. Imminent supports companies with research and information in order to define a localization strategy. It also funds language data research, and rewards the best initiatives that advance technology and creativity for international communication.
What Imminent includes
A Research Report focusing on the main topic of the year, with interviews to the scientific committee members, research papers and most interesting data related to rapidly developing and expanding countries.
A factbook for each country with data about languages, media, economies and demographics.
Access to T-Index: original statistical indicator that assesses the value of translations for all countries in the world.
Original studies and stories related to language, media, and culture.
Exclusive interviews, reportage and features about technologies, businesses and geopolitical shifts.
Imminent's toolbox: an open digital platform conveying intercultural design topics related to language and translation studies, with a reserved area containing all economic, linguistic, cultural and social data.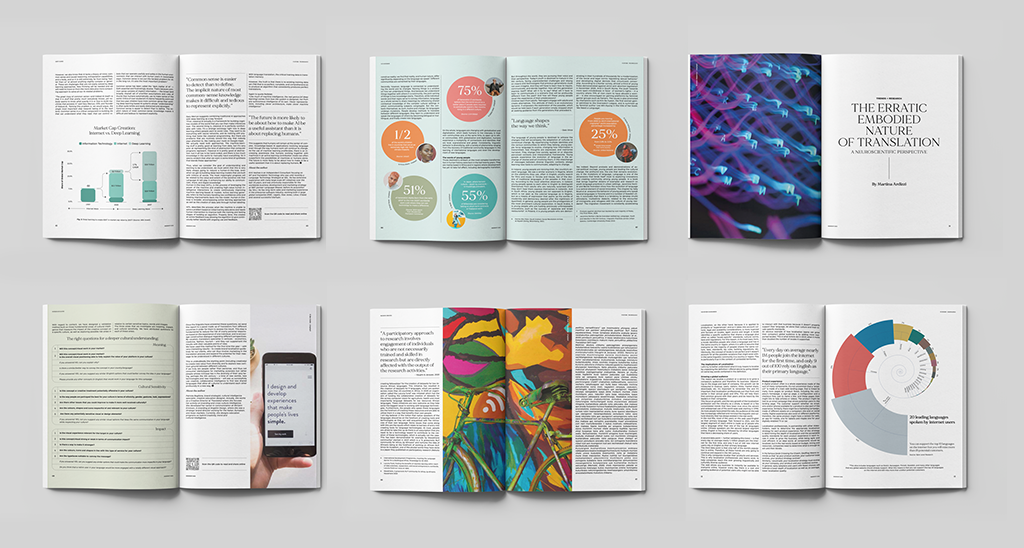 Imminent is its community.
Both the production and the sharing of knowledge at Imminent are the result of the commitment of people who devote their expertise to serving those who choose to offer Imminent their valuable time. Relationships among everyone in the community help build a culture defined by the value of multilingualism, respectful communication between different points of view, and research into uncharted territory.
Some of Imminent experts:
Full Professor at the Physics Department of "Sapienza" University of Rome (since 1987) and, since 2019 President of the Enrico Fermi Research Center. Since 2016 he is also Senior Advisor of IFC-World Bank of Washington.
One of the world's leading experts in the field of E-commerce, Internet of Things and Smart Manufacturing in China.
Co-founder of Asterism, a communication company. Her work has appeared in the Lagos Noir anthology, The Republic Journal, Quramo Report, and Saraba Literary Magazine amongst others.
Co-author of The General Theory of the Translation Company and leads Nimdzi Insights, a think-tank and consulting company that focuses on growth strategies for localization leaders. A former executive in some of the leading companies in the industry, Renato is also the co-host of The Global Podcast.
Leading expert in localization and global operations. He's held leadership roles at Airbnb, PayPal, and Yahoo, and is a published author.
Adjunct Professor of Artificial Intelligence at the Faculty of Applied Sciences and Technologies of the University of Guglielmo Marconi in Italy and head of Isagog Srl, an Italian AI startup.
Independent Consultant focusing on MT and Translation Technology who was until recently a Language Technology Strategist at SDL.
Designer and cultural researcher working to create gastronomical experiences. She is particularly interested in the human factor and has worked for over a decade in the area of design and innovation across industries. She explores and writes on how people use everyday technology, migration and food and digital democracy in emerging economies.
Here below a few examples of what you'll find in our Annual Research Report 2022.
Make confident decisions using our benchmarks and statistics.
An awareness of languages is an integral part of any respectful and open-minded approach to intercultural relations.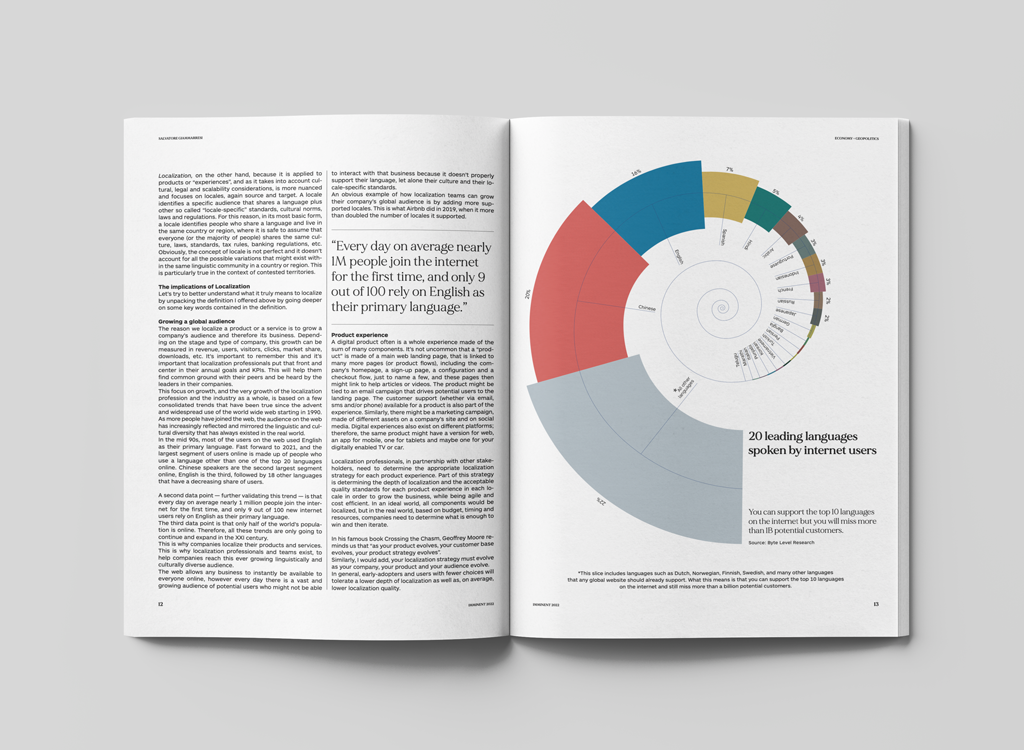 ---
Imminent is an objective resource for breaking down barriers and reach 100+ countries.
Any international project can be improved if it has a way to express itself in the languages with which it seeks genuine contact. The Imminent Report 2022 shows how it can be done effectively.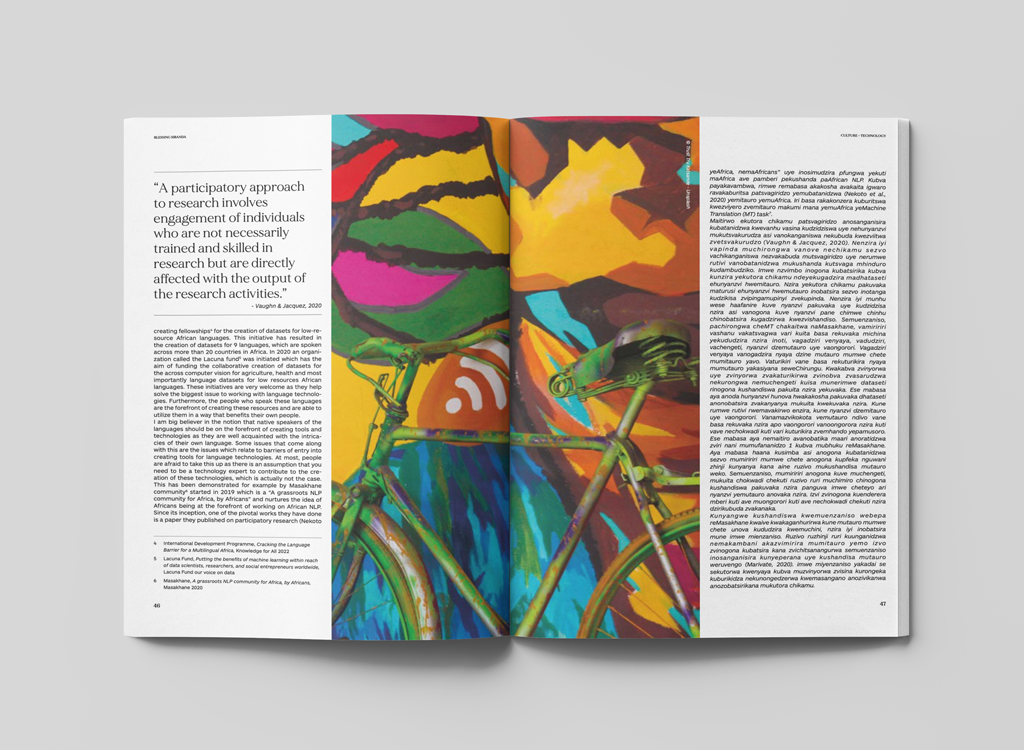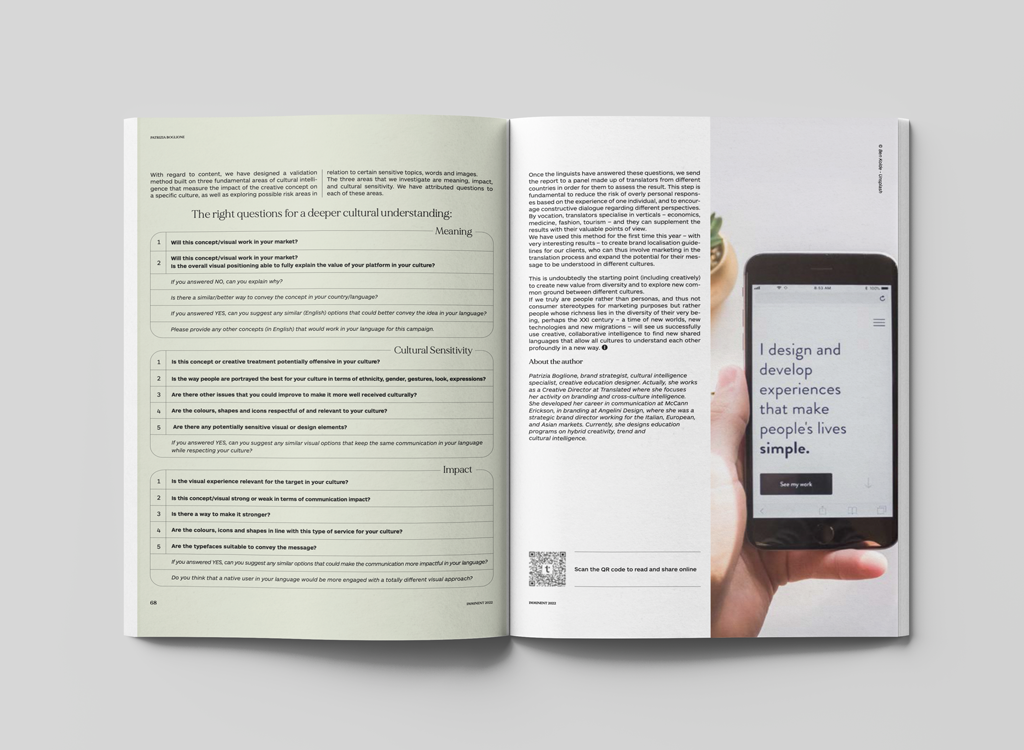 ---
Gain the insights, advice and tools to achieve your mission-critical priorities.
Any organization that has plans to expand globally should be aware of the advancements in language services; the integration of artificial intelligence is becoming the foundation of these services, while the human element is used for tasks that require an increased amount of value.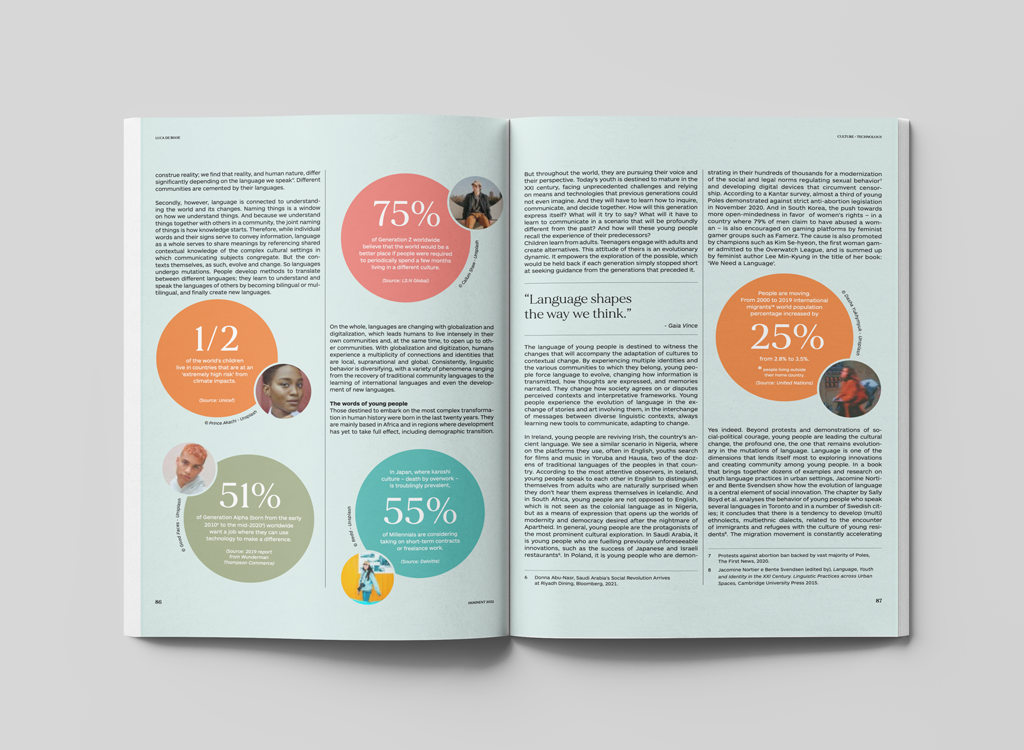 ---
Find the full version and much more in the Annual Research Report 2022.