To which language should you translate to localize in Jordan?
What the 150 top websites do
Of the top 150 website (Global by design ranking):
43/150 translate into English
14/150 translate into Arabic
If you need others information, below you can find a selection of economic/social/cultural data
Overview
---
Language
Official language
Arabic (92%)
Actual languages
France (2%), English (6%)
T-index
0.08%
T-Index ranks countries according to their potential for online sales.
Most studied languages
English, French
English
Low proficiency (EF) – 90 of 111 countries/regions in the world- 8/12 position in the Middle East.
Demography
Capital: Amman
Currency: Jordanian dinar
Population: 11,28 m
Population density: 123 /km2
Economy
GDP: 47.45 billion USD (2022)
GDP per capita: 4,204.5 USD (2022)
Exports: $12 billion (2021)
Statistics
Internet users: 88% penetration, 9.95 million
Unemployment rate: 19.8% (2021)
Urbanisation: 91.63% (2021)
Literacy: 98% (2021)
Conventions
Numbering system
Arabic numerals with comma as decimal separator, space as thousands separator.
Date format: yyyy-mm-dd / dd-mm-yyyy
Time: 24h time system
Country code: 0033
Language data sources: Worldatlas/Britannica//EF/Wikipedia; Demography data sources: IMF/Worldometers; Conventions data source: Wikipedia; Economy data sources: WTO/OEC/CIA/Esomar/Datareportal; Statistics data sources: Datareportal/WorldBank/UN/UNESCO/CEIC/IMF/Culturalatlas/Commisceoglobal
Facts and data
---
Economy
Imports
$12 billion (2021). Cars ($1.59B), Refined Petroleum ($1.09B), Gold ($1.08B), Crude Petroleum ($956M), and Broadcasting Equipment ($727M), importing mostly from China ($4.17B), Saudi Arabia ($3.39B), United Arab Emirates ($2.69B), United States ($1.31B), and Turkey ($821M).
Financial inclusion factors (over 15 years of age)
• 43.4% have an account with a financial institution
• 2.8% have a credit card
• 10.7% have a mobile money account
• 3.9% make online purchases
Ease of doing business
It is easy to conduct business (rated 69 out of 100), 6th out of 20 Middle East & North Africa countries, and 75th worldwide out of 186 countries (2019, Heritage Foundation and Wall Street Journal).
Exports
Potassic Fertilizers ($1.2B), Other Knit Garments ($860M), Calcium Phosphates ($672M), Phosphoric Acid ($635M), and Packaged Medicaments ($507M), exporting mostly to United States ($3.13B), India ($1.58B), Saudi Arabia ($1.29B), Iraq ($615M), and China ($486M).
In 2021, Jordan was the world's biggest exporter of Phenol Derivatives ($260M).
Economic freedom
'Moderately free' (rated 58.8 out of 100) ranked 5th out of 14 Middle Eastern countries ranked 93rd out of 186 countries worldwide (2019, Heritage Foundation and Wall Street Journal)
Global Innovation Index
Ranked 12th out of 19 Northern Africa ad Western Asia countries, 78th out of 132 worldwide.
The Global Innovation Index captures the innovation
ecosystem performance of 132 economies and tracks the most recent global innovation trends.
Economy data sources: WTO/OEC/CIA/Esomar/Datareportal
---
Source: OEC
---
Most complex products by PCI
Product Complexity Index measures the knowledge intensity of a product by considering the knowledge intensity of its exporters
Source: OEC
---
Most Specialised Products by RCA Index
Specialisation is measured using Revealed Comparative Advantage, an index that takes the ratio between Jordan observed and expected exports in each product
Source: OEC
---
Export Opportunities by Relatedness
Relatedness measures the distance between a country's current exports and each product, the barchart show only products that Jordan is not specialized in
Source: OEC
---
T-index
Reach most of the online purchasing power
T-Index ranks countries according to their potential for online sales. It estimates the market share of each country in relation to global e-commerce.
Try it now
---
Media
Media language
English, French, Arabic.
Information channels
The Jordanian media have traditionally been under tight state control. The media take care not to cross editorial red lines and journalists are subject to surveillance by the intelligence services, says Reporters Without Borders. Journalists rarely face violence or lengthy prison terms for their work, but they often self-censor, says Freedom House. TV is the most popular medium. State broadcaster Jordan Radio and TV Corporation's (JRTV) networks operate alongside dozens of commercial satellite stations, most of them carrying entertainment. Jordan Media City is a hub for regional satellite TV broadcasters. BBC World Service radio in Arabic broadcasts on FM in Amman (103.1) and in northern Jordan (89.1). Private, music-based FM radio stations have sprung up. There are more than 40 licensed stations. The press law gives officials the power to block websites. Site owners are responsible for posted comments and news websites must have a licence from the government.
The press
Addustour ("The Constitution") – privately-owned daily
Al Rai ("The Opinion") – privately-owned daily
Al Ghad ("Tomorrow") – privately-owned daily
Jordan Times – English-language daily, sister publication to Al Rai
Media data source: BBC
---
Internet Data
Internet users
88% penetration, 9.95 million
Share of web traffic by device
72.90% mobile phones, 26.01% computers (laptops and desktops), 1.04% tablet devices, others 0.04%
Median speed of mobile Internet connection
16.60 Mbps
Median speed of fixed Internet connection
74.46 Mbps
Mobile connection as a percentage of total population: 76.1%
Percentage of mobile connections that are broadband (3G-5G): 82.8%
Most popular web search engines
Google (95.56%), Bing (2.11%), Petal Search (1.63%), Yahoo! (0.47%), YANDEX (0.12%), other (0.11%).
Most used social media
Facebook (87.34%), Twitter (4.11%), Instagram (4.02%), YouTube (3.73%), Pinterest (0.6%), LinkedIn (0.12%), reddit (0.06%), other (0.03%).
Internet data sources: Datareportal/Statcounter
---
Social statistics
Life expectancy
74 years (2021)
Current healthcare expenditure
7.47% of GDP (2020)

Current education expenditure
88% of total expenditure in public institutions

Co2 emissions
1.9 metric tons per capita
Corruption Perceptions Index
Jordan scored 47 out of 100, ranked 61 out of 180 countries worldwide.
The CPI measures perception of corruption due to the difficulty of measuring absolute levels of corruption.
World Happiness Index
Jordan ranked 134 out of 146 countries, with a score of 4.152.
The World Happiness Index measures happiness based on respondent ratings of their own lives, correlated with other life factors.
Social statistics sources: WorldBank/UN/UNESCO/CEIC/IMF
---
Tertiary education in Jordan, by sex
Source: UNESCO
Jordan: Ratio of military spending to gross domestic product (GDP) from 2009 to 2019
Source: WorldBank
---
The Data Factbook is a work in progress project. Our community is helping us to fill it up always with new and updated data. Your contribution is precious. If you want to help us, please write your advices at imminent@translated.com
---
Languages research
---
Languages in Jordan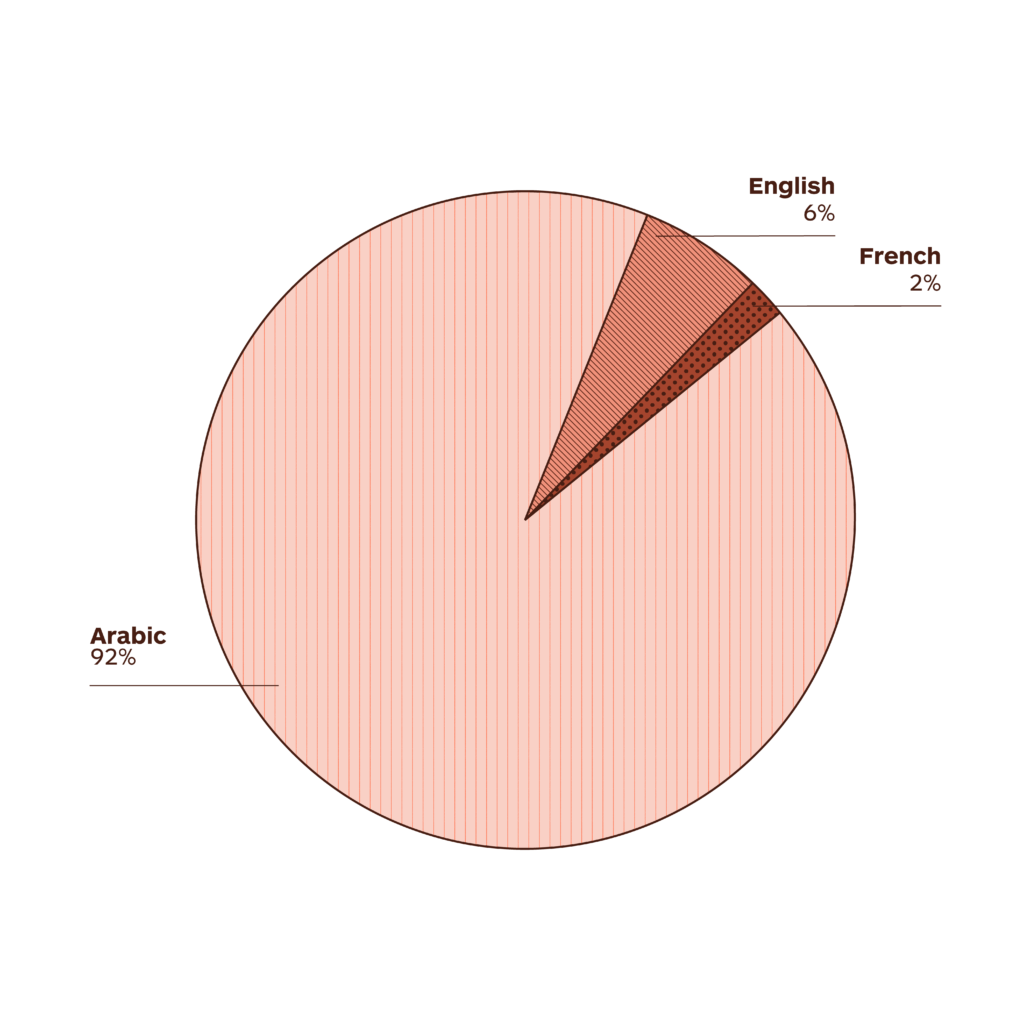 ---
The geographical distribution of languages that you will find in the maps published in this section is a work in progress. Our community is helping us to fill it up with always new and updated data. Your contribution is precious. If you want to help us, please write to imminent.factbook@translated.com
---
Photo credit: Daniel Qura, Unsplash
---