Humans don't perform to their best ability on their own; they desperately need to cooperate. Scientific research has shown that the teams that achieve the best results consist of people with different points of view who understand each other. Languages are the most important tools in com- munication. Language diversity is a hallmark of cultural di- versity, and cultural diversity engenders cognitive richness.
Is it possible to improve the understanding between people speaking different languages and thus improve their ability to do things together in a smarter way? Can the performance of a multilingual team not merely equal, but actually surpass, that achieved by one in which everybody speaks the same language? Can a multilingual group do better things? To answer these questions, we must consider how groups of people think and work together and how their collaboration can be improved: the matter has cognitive, organizational, and technological dimensions, as shown by the various contributions collected in this Imminent Annual Report 2023.
Salvatore Giammarresi shows how interesting the problem can be in a company and how it ultimately comes down to finding the most efficient operational solution possible without neglecting to pursue every opportunity to expand linguistic diversity. Patrizia Boglione further shows how to interpret the generativity of cultural diversity in the foundational dynamics of brands. Indeed, the value of corporate identity now stems not from an artificial assertion of unique- ness but from the authentic complexity of relationships with the rest of the world.
It is manifest that the evolution of a set of solutions capable of fostering collaboration between people of different languages is in keeping with the development of the translation and localization industry. In turn, the latter is the result of complex symbiotic relationship dynamics between artificial intelligence-based machines capable of rapid text translation and humans whose ever-evolving skills ensure the improvement
of the quality of such translation. Kirti Vashee, Jacob Browning, Yann Lecun, Guido Vetere, and Marco Trombetti high- light the technological, linguistic, and economic dynamics in play. The overall impression is that the possibility of building solutions to foster better understanding between people is increasingly real.
But of course, merely understanding languages is not enough to build collaboration. There is a great deal of research to be done to understand how to improve collective intelligence communities, socio-technical groups of people who evolve together, communication formats, and tools for collaboration in multilingual contexts. The experiences at ESA and ERC, as respectively recounted by Ersilia Vaudo and Helga Nowotny, are exemplary. The reviews by Kirti Vashee, Massimo Chiriatti, Paolo Venturi, and Guglielmo Maccario reflect the perspectives of experts who ponder the evolution of technological and social innovation. Luca De Biase endeavors to compose a synthetic overview, while the community that acknowledges Imminent's research as a valid basis for exchange offers many insights of its own.
Yet ultimately, the problem of collaboration between individuals can only be analyzed in depth by referencing scientific and humanistic principles to study the innermost workings of the brain to observe what happens to the minds of those who communicate in multilingual contexts. The most recent find- ings are reported by neuroscientists Carlotta Barelli, Valentina Rava, Nereo Kalebic, Elena Taverna, and Martina Ardizzi.
As always, Imminent's annual report concludes with three country fact sheets that present strategic data capable of enhancing cooperation with singularly interesting countries such as Indonesia, Kenya, and Estonia. Imminent's website of course presents many more country fact sheets, community news, interviews, and information on Research Grants offered by Translated, the company that makes Imminent's research possible.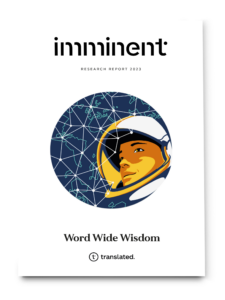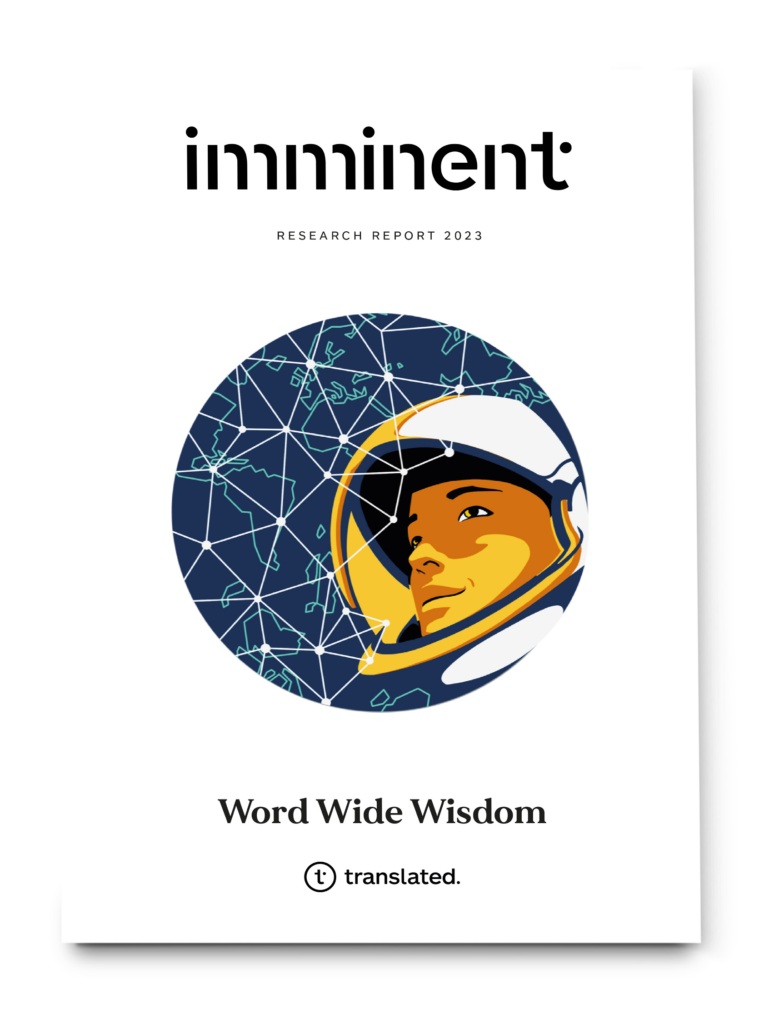 Research Report 2023
• Localization
• Technology
• Collective Intelligence
• Neuroscience
• Research Grants
• Language Surveys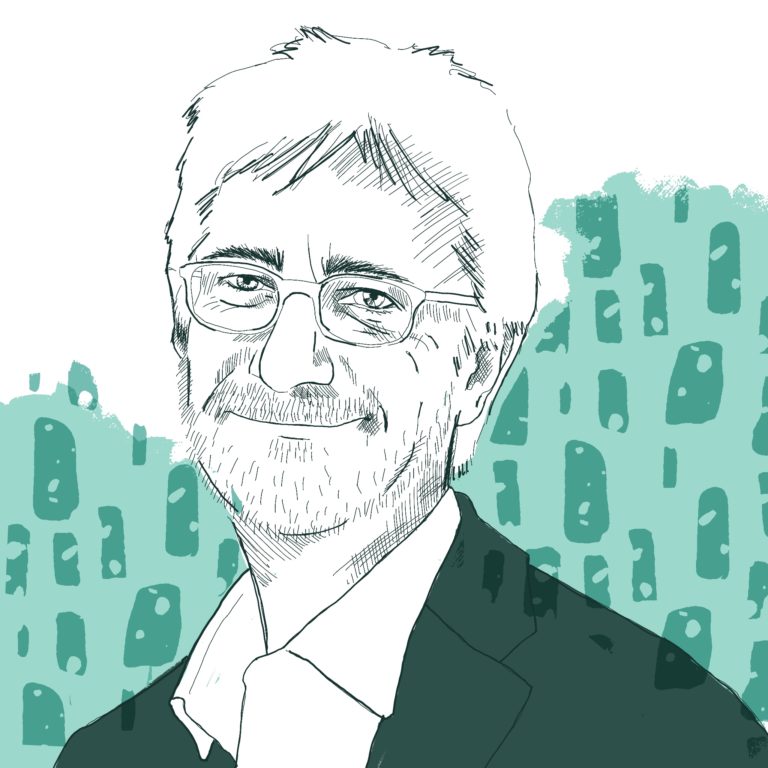 Luca De Biase
Imminent Research Director
Journalist and writer, head of the innovation section at Il Sole 24 Ore. Professor of Knowledge Management at the University of Pisa. Recent books: Innovazione armonica, with Francesco Cicione (Rubettino, 2020), Il lavoro del futuro (Codice, 2018), Come saremo, with Telmo Pievani (Codice, 2016), Homo pluralis (Codice, 2015). Member of the Mission Assembly for Climate-Neutral and Smart Cities, at the European Commission. Co-founder of ItaliaStartup Association. Member of the scientific committee of Symbola, Civica and Pearson Academy. Until January 2021 he has chaired the "Working Group on the phenomenon of hate speech online", established by the Minister of Technological Innovation and Digitization, with the Ministry of Justice and the Department of Publishing at the Presidency of the Council. He has designed and managed La Vita Nòva, a pioneering bi-monthly review for tablets, that has won a Moebius Award, 2011, in Lugano, and a Lovie Award, 2011, in London. His work has been honored with the James W. Carey Award for Outstanding Media Ecology Journalism 2016, by the Media Ecology Association.
---
Illustration by: Matteo Licci
---