How Estonia's ground-breaking digital society is helping to create a global digital nation
In the last two decades, Estonia has shot to fame as one of the most digital countries in the world. Although grandmas are still pickling tomatoes in the traditional way and two-thirds of the Estonian population lives outside of the capital, modern courier robots have taken to the streets to deliver goods and (e-)residents sign legally binding documents on their phones while hanging in hammocks in remote fishing villages. It is the Scandinavian dream of being alone and staying connected at the same time.
As a country with low population intensity, 50% forest coverage and the highest number of start-ups per capita in Europe (including unicorns), Estonia relies on the digital systems put in place to allow people to work, vote and run businesses remotely. In fact, Estonia enjoys digital signatures and paperless communication with 99% of its government services. Everything is available from the comfort of one's home and lots of Estonians even compete in filing their tax returns the fastest. (This might or might not be a form of dark northern humour.)
Being focused on entrepreneurship, digital communication and technology, Estonia is now empowering its entrepreneurial environment with a truly next-level solution: e-residency, a form of supranational digital identity.
E-Residency: the road to a global nation
e-Residency has been called the most open entrepreneur- ship ecosystem in the world. The program, a first in the world, issues a secure state-issued digital ID which can be used to access all of Estonia's digital government services. With this digital identity, e-residents can create and manage companies online, file taxes in the e-tax system, and sign documents with a digital signature – all remotely, all completely online. In other words, it gives one access to government services without providing them residency rights.
e-Residency is just one of the digital services that has helped Estonia grow and attract a high number of international investments. However, the growth of Estonia has not happened overnight nor has it sprouted from a single linear road. A multitude of paths have converged to help create a country that has 4 times more startups per capita than the European average and also the highest number of investments per capita in Europe. Factors that need to be taken into account, are:
The (can-do) attitude of the local entrepreneurs
Wide-ranging networking and brainstorming events
The inclusivity of the thriving startup ecosystem
A functioning ecosystem of e-services
Strong focus on entrepreneurship and technology
It also helps that Estonia boasts of the simplest and most transparent taxation regimes in the world and that being an e-Resident enables you to be part of an advanced and secure digital economy with minimal costs and bureaucracy.
Communication opens doors
The number of remote workers, freelancers and digital nomads continues to grow. Having a platform that provides you with the means to establish a business from anywhere in the world and manage the company from a distance, is often one of the necessary work tools for entrepreneurs of the current day. e-Residency has made expanding one's business into the EU a lot smoother and safer than before, so it is a perfect solution for anyone looking to start or scale up quickly.
Since its rollout 8 years ago, e-Residency has supported the creation of more than 24,000 new businesses. At the moment of writing, about 100,000 people from 176 countries have joined e-Residency, thus gaining access to the tools that enable them to launch global businesses online.
In the summer of 2022, Forbes described Estonia as a country continuing its inexorable ascent to digital powerhouse status. This statement came soon after an Estonian e-resident Dominik Panosch had set a new world record in setting up a business online from scratch. (For the curious among us, it took Dominik 15 minutes and 33 seconds, beating the previous record by a few minutes.)
Apart from e-Residency, Estonia's other programs and visa categories are also tweaked to enhance the business growth opportunities of international entrepreneurs. There is the Digital Nomad Visa and also the Estonian Startup Visa that helps non-EU founders grow their startups in Estonia while easing the process for Estonian startups to hire non-EU talents.
Next in focus: the customer journey
Having the services exist is not enough on its own, however. If they are too expensive to access or too difficult to understand, users will not adapt them. At least, not widely. The key for a successful adaptation lies in communication and smooth customer journey. As we all know, when online applications and processes take too long, we tend to lose motivation and leave things unfinished. One planned innovation in Estonia's digital journey is to reduce the actual time it takes to become an e-resident. Because the e-residency card is a high-security document (requiring biometric data and face-to-face identification), this innovation will definitely provide its own challenges. Near-future challenges withstanding, e-Residency is actively helping Estonian and international companies grow as we speak. It is a highly practical problem solving solution that invites global businesses and talents to Estonia, generates jobs and boosts the local entrepreneurial environment while creating a global digital nation as it goes along.
Fun fact: In 2022, the campaign for expanding the world's first e-Residency to Brazil was selected as one of the finalists in the public sector category of the prestigious PRWeek Global Awards. It is one of the highest global recognitions in the field of communication.
Estonia
Language Data Factbook
The Language Data Factbook project aims to make the localisation of your business and your cultural project easier. It provides a full overview of every country in the world, collecting linguistic, demographic, economic, cultural and social data. With an in-depth look at the linguistic heritage, it helps you to know in which languages to speak to achieve your goal.
Read it now
Kuidas Eesti murranguline digiühiskond aitab luua globaalset digiriiki
Eesti on viimase kahe aastakümne jooksul kogunud kuulsust kui üks digitaalsemaid riike maailmas. Kuigi siinsed vanaemad marineerivad tomateid endiselt traditsioonilisel moel ja kaks kolmandikku riigi elanikkonnast elab väljaspool pealinna, on linnatänavatel vaikselt suhisemas kaupu tarnivad kullerrobotid ning (e-)residendid allkirjastavad juriidiliselt siduvaid dokumente kaugetes rannakülades võrkkiikedes lebades. See on Skandinaavia ideaal: olla võimalusel üksi ja samal ajal teistega koos.
Eesti on madala asustustiheduse riik, mis on 50% ulatuses kaetud metsaga ning kus paikneb Euroopa suurim arv idufirmasid (sh ükssarvikuid); riik, mis tugineb digisüsteemidele, mis võimaldavad inimestel kaugvormis töötada, hääletada ja ettevõtteid juhtida. Eestis toimub 99% suhtlusest riigiasutustega paberivabalt ja digiallkirjade toel. Teenused on mugavalt kodust kättesaadavad ja eestlased võistlevad vahel isegi selles, kes oma tuludeklaratsiooni esitamises kõige kiirem on. (See võib, aga ei pruugi olla, põhjamaiselt tumeda huumori üks erivorme.)
Ettevõtlusele, digitaalsele kommunikatsioonile ja tehnoloogiale keskendunud riigis on ettevõtluskeskkonna toetami- seks mõnda aega kasutusel olnud ka üks tõeliselt järgmise taseme lahendus: e-residentsus ehk riigiülene digitaalne identiteet.
E-residentsus: tee globaalse riigini
E-residentsust on nimetatud maailma avatuimaks ettevõtluse ökosüsteemiks. Programm on esimene maailmas, mis väljastab väliskodanikule turvalise riikliku digitaalse isikutunnistuse, mis annab ligipääsu digiriigi kõikidele e-teenustele. Digitaalse isikutunnistuse abil saavad e-residendid Internetis ettevõtteid luua ja hallata, e-Maksuametis tuludeklaratsioone esitada ning dokumente digiallkirjaga allkirjastada – seda kõike kaugteel, asukohast sõltumata. E-residentsus on programm, mis annab väliskodanikule juurdepääsu valit- susteenustele ilma elamisõigust andmata.
E-residentsus on üks mitmetest digiteenustest, mis on ai- danud Eestil kasvada ja tuua riiki rahvusvahelisi investeerin- guid. Kasv pole aga toimunud üleöö ega hargnenud ühest sirgteest. Loomaks riiki, kus on elaniku kohta 4 korda rohkem idufirmasid kui Euroopas keskmiselt ja lisaks ka kõrgeim arv investeeringuid elaniku kohta Euroopas, on kokku saanud erinevad tegurid. Olulisel kohal on kindlasti järgmised:
• Kohalike ettevõtjate "Teeme ära!" suhtumine
• Laiaulatuslikud võrgustikukohtumised ja ajurünnakud
• Toimiv e-teenuste ökosüsteem
• Eduka startup-ökosüsteemi kaasatus
• Riiglik fookus ettevõtlusel ja tehnoloogial
Samuti aitab kaasa, et Eestil on maailma kõige lihtsam ja läbipaistvam maksusüsteem ning et e-residendiks olemine võimaldab saada osa arenenud ja turvalisest digimajandu sest minimaalsete kulude ja bürokraatiaga.
Kommunikatsioon avab uksi
Kaugtöötajate, vabakutseliste töötajate ja diginomaadide arv on jätkuvalt kasvuteel. Platvorm, mis annab võimaluse asutada ettevõtteid kõikjalt maailmast ja juhtida neid distantsilt, on tänapäeva ettevõtjate jaoks sageli üks vajalikest töövahenditest. E-residentsus on muutnud ettevõtete jaoks laiendamise EL-i senisest sujuvamaks ja turvalisemaks, olles seega ideaalseks lahenduseks kõigile, kes soovivad kiiresti alustada või aega viitmata laieneda. Alates e-residentsuse kasutuselevõtust 8 aastat tagasi on programm kaasa aidanud üle 24 000 uue ettevõtte sünnile. Artikli kirjutamise ajal on e-residentsusega liitunud umbes 100 000 inimest 176 riigist, kes on kõik saanud ligipääsu tööriistadele, mis võimaldavad neil kaugteel globaalseid ärisid käivitada.
2022. aasta suvel kirjeldas Forbes Eestit riigina, mis jätkab oma vääramatut tõusu digitaalse jõujaama staatusesse. See väide käidi välja varsti pärast seda, kui Eesti e-resident Dominik Panosch püstitas uue maailmarekordi ettevõtte nullist loomise kiiruses. (Uudishimulikule lugejale: Dominikul kulus selleks 15 minutit ja 33 sekundit, lüües eelmist rekordit lausa paari minutiga.)
Lisaks e-residentsusele on Eesti rahvusvaheliste ettevõtjate äriliste kasvuvõimaluste suurendamiseks lihvinud ka teisi programme ja viisakategooriaid. Taotleda saab näiteks diginomaadi viisat ja startup-viisat. Viimane aitab EL-i välistel ettevõtetel oma idufirmasid Eestis kasvatada, muutes samas välistalentide palkamise lihtsamaks Eesti idufirmade jaoks.
Järgmisena fookuses: klienditeekond
Teenuste olemasolust aga üksi ei piisa. Kui teenustele ligipääs on liiga kallis või keeruline, ei võta sihtgrupp neid asutusele. Vähemalt mitte laialt. Eduka kasutuselevõtu võti peitub kommunikatsioonis ja sujuvas klienditeekonnas.
Me kõik teame, et kui digitaalsed taotlused või protsessid võtavad liiga kaua aega, kipub motivatsioon kaduma ja asjad pooleli jääma. Üheks plaanitud uuenduseks Eesti digiteekonnal on e-residendiks saamise füüsilise aja vähendamine. Kuna e-residentsust tõendav digitaalne isikutunnistus on kõrge turvalisuse astmega dokument, mis nõuab biomeetrilisi andmeid ja näost näkku tuvastamist, pakub plaanitud uuendus kindlasti omi väljakutseid.
Lähituleviku väljakutsetele vaatamata aitab e-residentsus juba mõnda aega nii Eesti kui ka rahvusvahelistel ettevõtetel ly helping Estonian and international companies grow as we
hoogsalt kasvada. Tegemist on ülimalt praktilise lahendusega, mis kutsub Eestisse globaalseid ettevõtteid ja talente, loob töökohti ja turgutab kohalikku ettevõtluskeskkonda, aidates samaaegselt ehitada ühte tõeliselt globaalset digiriiki.
Lõbus fakt: 2022. aastal valiti maailma esimese e-residents- use Brasiiliasse laiendamise kampaania maineka PRWeek Global Awardsi avaliku sektori kategooria finalistide hulka. Tegemist on ühe kõrgeima ülemaailmse tunnustusega kommunikatsioonivaldkonnas.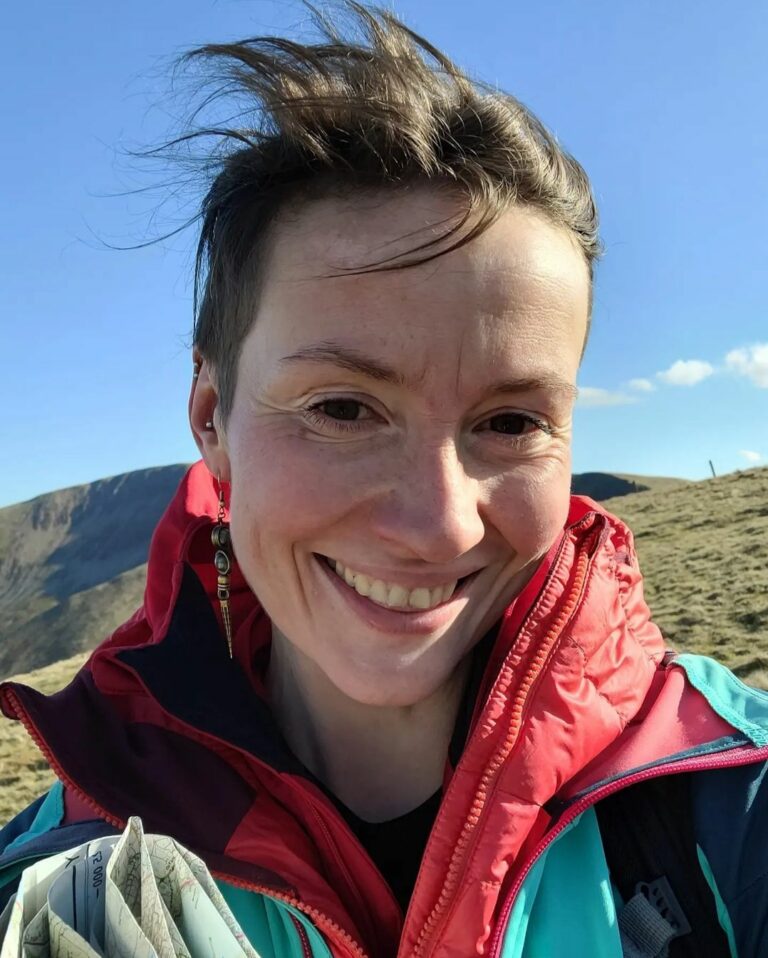 Marion Jõepera
Travel writer, tour guide and copywriter
Marion Jõepera is a travel writer, tour guide and copywriter. She has spent the last 20 years creating (user) journeys on screen, paper and mountain trails, and can often be found participating in projects that bring us closer to experiencing the world as directly as possible. When not enhancing user experience or guiding in the remote wilderness, she is collaborating with theatre directors, climbing mountains or helping post-grad students pursue their fervent academic goals.
---
Photo credit: Matheus Frade, Unsplash
---